Invisible
I will never forget a comment that an older person made to me once a few years ago:  "Just wait until you're no longer young and pretty.  You'll love becoming invisible." I was horrified by her words, because she seemed to revel in the idea of becoming invisible as you get older.  She also seemed to think that being invisible is a good thing.  Now I know what my son would have said when he was 5.  He wore capes nonstop for all of preschool and wanted to save the world from "bad guys." It was part of his dream to be invisible so he could sneak up and get the bad guys when they weren't looking.  But he didn't always want to be invisible; always invisible sounds kind of sad.  Frankly, when I'm really old someday, I will do everything I can to stand out and be heard.  Poet Jenny Joseph once wrote the famous poem called "When I Am Old" with the first lines stating: "When I am an old woman I shall wear purple/With a red hat that doesn't go, and that doesn't suit me."
We live in a society in which so many of us are made to feel invisible.  Victims of date rape on college campuses are shamed into silence, while rapists like the Stanford swimmer get out off with 3 months of prison time. Presidential candidates are allowed to body shame and demean women repeatedly, even during the debates, and the victims are criticized for speaking up. People on the margins, from the homeless, to the drug addicted, to the abused, are not valued because they broke the rules for how to behave, and therefore they have no voice.  Older women, who no longer turn heads, are made to feel invisible, as though their looks is all they have to offer the world.  And women like Hillary Clinton, who dare to run (and possibly win) for president are made to feel shame for campaigning rough and dirty like a man.  She is not just a pretty face– and in fact never was– but she is smart and she is tough and she is very threatening to a lot of people, because she is daring not to be invisible.  At all.
As a woman raising kids, I often feel invisible.  Somehow my kids' doctors and nurses feel comfortable calling me "Mom."  I have had to remind many nurses in many offices that the only people allowed to call me that are my kids, and to remember that I have a name, which is Melinda. It is demeaning not to call someone you regularly see by their name.  Before Civil Rights, white people felt entitled to call a black man "boy", which is thankfully no longer acceptable.  For the years that I was pushing a double stroller with two young kids, I was invisible, because nobody wanted to deal with the hassle and the noise that two babies bring.  I was kicked out of the library multiple times for my baby crying, even though libraries are for kids.  So I wrote letters reminding the library staff that I paid taxes for access to children's books that my kids wanted to read.  I refused to be invisible.
But on the small things, it's so easy to remain invisible.  If someone says something that hurts us, how many of us actually speak up?  How many of us share with people that we are religious or passionate about art or care about politics or are struggling with something in our lives?  Or do we instead post happy pictures on Facebook and let everyone think that our lives are perfect?  That's making yourself invisible by playing small.  To be honest, many of us are so scared about fitting in and being liked, even as adults, that we don't really show who we are.  I have noticed over the years that since most people know me as a mother and a life and vocal coach, I haven't talked a lot about my music, even though I have two albums out and I've been a professional musician since my late teens. (You can check out my music at www.melindastanford.com.) The fact is I got busy with raising kids and I was surrounded by busy people who didn't have time to listen to my CD's so I gradually stopped talking about it.  I became invisible.
Not anymore.  Now that my kids are older and I'm finally coming up for air, I'm making myself heard and known in a way that I haven't been able and willing to before. The fact is, the greatest gift we can give our kids, other than our time, is the example of putting ourselves out in the world again and again, even if it means stumbling and falling over and over. What other choice do we have? Giving up should not be an option.
Here is one of my favorite quotes from Marianne Williamson, which I've written about before:  "Our deepest fear is not that we are inadequate.  Our deepest fear is that we are powerful beyond measure… We ask ourselves, Who am I to be brilliant, gorgeous, talented, fabulous? Actually, who are you not to be?" To claim your world stage, notice where you are invisible and take one step to change that.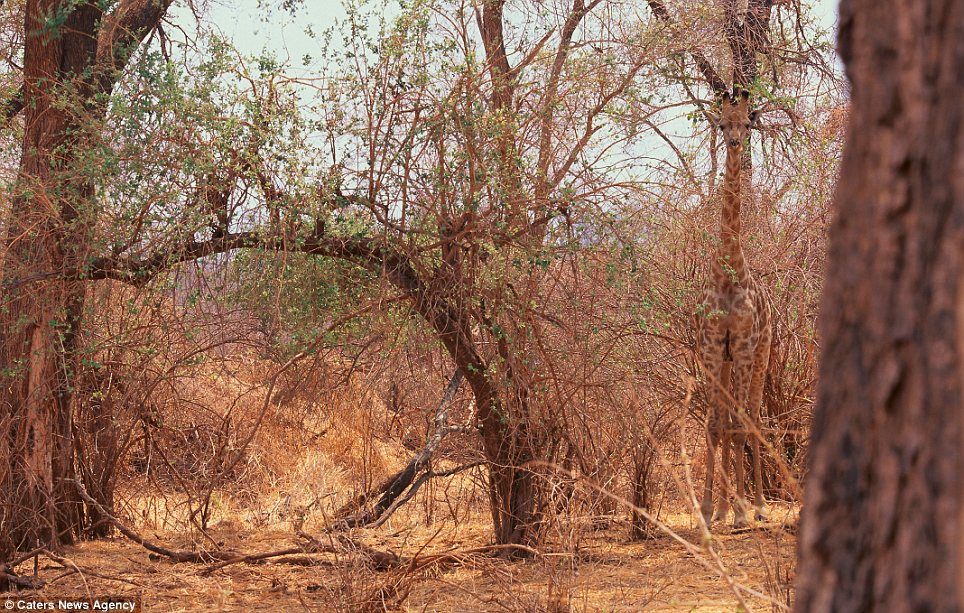 This is a giraffe hiding, but animals do it for the right reasons 🙂